Totally unaware of what the future may hold, it is now clear that Third Coast Hot Rods LLC has been a "work in progress" since my childhood. Growing up in a country Texas town, I was fortunate to have been raised by my grandparents, whose farming, horticulture and flower shop business offered me a plethora of opportunity to expand my interest in design, fabrication, improvement and customization of mechanical things at a very young age.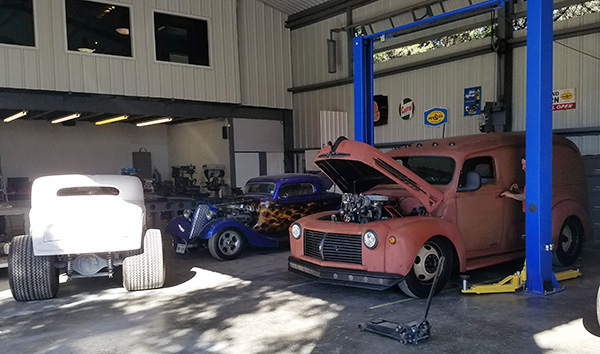 In the very early years of my life, my passion was building and painting plastic model car kits which my grandmother supplied me ample amounts of. We had a local hobby shop I would frequent on my customized and freshly painted bicycle, which I re-painted nearly every other week. I would purchase the latest plastic model car kit and spray paint to match, "ditch" my homework and to my workbench I would head.
At the ripe old age of twelve, my continued interest was more focused on design and fabrication of mechanical things that I could actually ride or drive, and without peddling. I still kept my Schwinn "Sting Ray" bike in good shape between paint jobs because seldom my motorized creations ran. My grandfather, a Texas A&M graduate and business owner, mentored me in my mechanical interests. Among the first things to learn was arc welding and using a cutting torch. It was on!
By the age of 14 I had a 90 mph go-cart and an 85 mph "chopper" mini bike which later almost killed my cousin. It was then that I also got my "hardship" driver's license thanks to my conniving grandmother needing a chauffeur...thus begins phase two.
My interest switched to full size cars. First ride was a `28 Ford pickup, followed by a `55 Chevy "gasser" type hot rod I drove to high school and then a `72 Dodge Challenger I drove to college.
Wanting to go drag racing, I purchased an altered `32 Ford fuel-injected drag car which was way too much at the time, so my best buddy and I resorted back to the `55. We trailered it to Houston International Dragway in 1972 and won the first time out. What a night!
In 1980 I traded in drag racing for asphalt circle track racing. My first endeavor out resulted in numerous wins in the NASCAR Sportsman classes and introduced me to a whole new world. Landing a ride with Coca Cola for a period of time helped to solidify my place in Texas motorsports, as well as successfully campaigned my son to compete in NASCAR Late Model and Super Modified events around the state.
Fast forward another decade or so... my passion remains. I am reverting back to my early years of designing, fabricating and customizing automobiles. Third Coast Hot Rods LLC is a newly formed venture which will allow me to showcase my many years of experience and involvement in motorsports. Through the creation of Third Coast Hot Rods, I hope to elevate hot rodding to new levels adding many more illustrious years and exciting chapters.